Mendel and other open source 3D printers
I'm currently tuning a Prusa Mendel, and will upload some examples, links, information, and hints soon!
Stratasys FDM 2000
FDM®2000 System Specifications

Build Size Parts up to 254 x 254 x 254 mm (10 x 10 x 10 in)

Achievable Accuracy Models produced within an accuracy of +/- .127 mm (+/- .005 in)

Size and Weight 660 (w) x 914 (h) x 1067 (d) mm (26 x 36 x 42 in) 160 kg (350 lbs)

Modeling Materials ABS in colors: red, black, green, blue and yellow or ICW (investment casting wax) in red

Layer Width/Thickness Operator may optionally select road widths between .254 to 2.54 mm (.010 to .100 in) and
thickness from .05 to .762 mm (.002 to .030 in)

Software Insight® orients and slices the .stl file and generates the FDM®2000 extrusion paths

Regulatory Compliance CE

directions of items to remember. If time passes, these are the details that tend to be forgotten

examples of successful parts

links

info
LaserCAMM
see maelabs.ucsd.edu and go to tutorials and guides
The lasercamm cuts 2d parts out of many non-reflective materials. These parts can be used to build up 3d shapes. The precision of 2D rapid prototyping lends itself well to templates for routing, drilling, or circuit printing. A laser method of cutting lets one make inside cuts very easily. For example, the autonomous robot below was designed in CAD, and produced (at least the parts for it) with a LaserCAMM from a sheet or two of acrylic.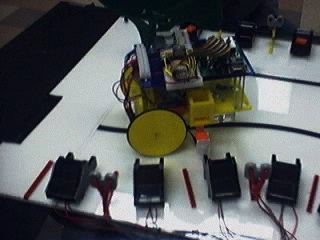 Additionally, the contest table for which this robot was designed was produced on a LaserCAMM after being designed in CAD.
otherwise nothing of note yet...but keep checking...