MAE 152 : Computer Graphics for Engineers and Scientists
FALL 2003 Quarter

page last updated Mon., 2/14/05, 1:00pm
---
---
Announcements
Check out your final projects here at the final project page: Final project page here

Final Project turnin procedures:

First create a basic webpage (one document) which has a description of your project, and a link to your file, which should be in the same folder, and saved as a zip file
Name your file similar to your homeworks, with no spaces in the name (this is important to make the link work on the web). Example : "myname_finalproject.zip"
Name your html document (web page) index.html this is important!
Here is a web page sample, it has some text, an image, and a link to a file. You can use this and change the links and images if you wish, or create your own. Just remember your total quota is 10MB, no more!
Place the files in the web folder of your directory by ftp. Connect with any of a number of free ftp programs, such as WS_FTP LE which you can find free online. Use your user name and password given at the final. If any one lost their logins, email Alex Simpkins, and he'll send it to you again. You'll be able to connect for the next month or so to make changes and additions.
---
Contents
---
Textbook
Purchase this book. There may be readings and material drawn from this.
online version to browse:
http://fly.cc.fer.hr/~unreal/theredbook/
or ...
download the zip file of the entire book here (~4MB)
or ...
download the pdf file here (7MB! It is suggested you use a high speed connection at home or download at school and use the CD Burning drives to put it onto a CD.)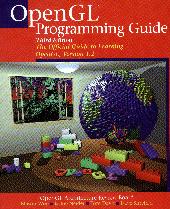 Woo, Neider, Davis, and Shreiner, OpenGL Programming Guide, Third Edition, Addison-Wesley, 1999.
This is available from the UCSD bookstore. Other course material will consist of web pages, handouts, and notes taken in class.
Also, the following book is very good: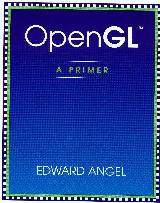 Ed Angel, OpenGL: A Primer, Addison-Wesley, 2001.
It doesn't explain much, but it is good at reminding you how to do certain things in OpenGL. Its examples use GLUT.
and (not pictured)
Daniel B. Olfe, Computer Graphics for Design: From Algorithms to AutoCAD, Prentice-Hall, 1995.
This book is out of print but you may find it online for purchase. We may be able to make selected chapters available for download.
Download the color theory chapter here (ch3)
Other References

* Chandrajit Bajaj, Data Visualization Techniques, John Wiley & Sons, 1999.
* F. S. Hill, Computer Graphics Using OpenGL, Prentice Hall, 2001.
* OpenGL Reference Manual, Third Edition, Addison-Wesley, 2000.
* Edward Angel, Interactive Computer Graphics: A Top-down Approach Using OpenGL, Addison-Wesley, 1999. (Second Edition)
* Alan Watt, 3D Computer Graphics, Addison-Wesley, 2000. (Third Edition)
* Will Schroeder, Ken Martin, and Bill Lorensen, The Visualization Toolkit: An Object-Oriented Approach to 3D Graphics, Prentice Hall PTR, 1998.
* Michael Mortenson, Geometric Modeling, John Wiley & Sons, 1985.
* Gerald Farin, Curves and Surfaces for Computer Aided Geometric Design, Academic Press, 1990.
* David Thompson, Jeff Braun, and Ray Ford, OpenDX: Paths to Visualization, VIS, Inc., 2001.
Prerequisites:
MAE 152. Computer Graphics for Engineers and Scientists (4)
Computer graphics algorithms studied using the C programming language and also by use of the computer-aided design software package AutoCAD. Applications in engineering and science. Topics include line-drawing algorithms, color, the user interface in CAD, spline curves and surfaces, 2-D and 3-D transformations, 3-D viewing, wireframe and solid models, and hidden-surface elimination. Weekly computer laboratory assignments plus a final graphics design project. Prerequisites: admission to the major and grade of C or better in AMES 15; college-level programming course in C, FORTRAN, or Pascal. (F,S)
Functioning brain.
Grading:
see the grading page
(Note, the grading page had to be removed due to privacy restrictions. We will look into a way of displaying them to you)
Grading will follow the fill-the-bucket principle. For each homework assignment and for the Midterm and Finals test you will get score points. These will be added. The grade will be based on your score and the maximum achievable score.
~5 projects
1 final project
1 final exam
total possible will be around 1000 pts, plus bonus
Instructor
Dr. Prashant V.Mahajan, Senior Research Scientist, AValonRF, Inc., El Cajon, CA,
Office Hours
3.45 p.m.-4.45 p.m. Mon and Wed in 383 EBUII
Lecture Schedule
OpenGL system and sample code

simple geometric modeling and GL/GLUT primitives


transformations


managing transformation stacks and composing transformations


animation, double buffering of images


color models and representation


lights and shading models


display lists


event models and event-driven programming


standard OpenGL callbacks


Matrix operations


Representations, linear functions and interpolations, polynomials, splines,


bezier functions


ProENGINEER solid modeling


DXF (between ProE and external programs)
Teaching Assistants
Alex Simpkins, PhD student, MAE department, System Identification and Controls Lab, csimpkin at ucsd dot edu
Lab Hours
All lab hours will take place in EBU II room 203 (the computer lab closest to the construction). Here the TA's will be available to assist with homework assigments and questions.
The following are the lab hours:
Projects
Project 1: C Review - Heat Conduction
120 pts
Due Wed, 10/3/03 by 12am
Project 2: Basic OpenGL program
120 pts
Due Oct 17, 5pm
Project 3a: Animation, timing, and collision
120 pts
Due Nov. 7, 5pm
Extended due to the tragic San Diego County fires.
Project 3b: more Animation, colors and lighting
120 pts
Due Sat, Nov. 15, 11:59pm
Extended to Saturday night, but project 4 is not extended
Project 4: Spline
110 pts
Due fri, Nov. 21, 11:59pm
Project 5: OpenGL to DXF to ProE
120 pts
CANCELLED
CANCELLED due to time limitations
FINAL PROJECT
300pts

Description due Thur, Nov. 6

11:59pm

Turn in via FTP to your account. Name the zip file yourusername_finprj.zip

FINAL EXAM
120 pts
TOTAL
1100 pts
Possible total
Handouts
Many of these are formatted as microsoft powerpoint files (*.ppt). If you don't have powerpoint, microsoft has a free viewer on their website. These files will be converted to PDF as soon as possible.
Example program 1:

Basic openGL setup program

Example Program 10:

Example program 2:

Simple openGL program

Example Program 11:

Example program 3:

Animated triangle spinning

Example Program 12:

Example Program 4:

Rabbit with Spheres

Example Program 13:

Example Program 5:

Lighting

Example program 14:

Example Program 6:

Example program 15:

Example Program 7:

Example program 16:

Example Program 8:

Example program 17:

Example Program 9:

Example program 18:

Example 20: Texture Mapping (Windows version)

Example 21: Texture mapping (Macintosh Version)
FAQs
In many on-line newsgroups or web topics, there is an entity known as a Frequently Asked Questions list, or a FAQ (rhymes with "yak"). Here we have several FAQs, arranged by topic. Click below to see individual FAQs:
Other Useful Online Graphics and Visualization Information